4. What was your role in the creation of The Independent, aka the Jenga Tower?
I was Head of Interior Architecture and the Lead Interior Designer for Rhode Partners when we were building The Independent. The exterior was very unique — we didn't want to develop something that looked like it could be an apartment building in just any city. I wanted this to carry through to the interiors as well, a different approach from what had been done in Austin before. We didn't want to compete with the form of the building, so we decided to put the structure on display by bringing materiality to the forefront. For example, we didn't choose a lot of wall coverings; instead we went with lots of exposed concrete that ties back into the exterior. We also paid careful attention to the artwork and furnishings we used. It's curated to give each space an individual voice while working in harmony with the building.
5. When you're creating a project on the scale of The Independent, how many other types of professionals do you collaborate with, and what are their roles?
One of the best things about what I do is that I get to work with different people on every project and every day is new and different. At (my firm) Studio Llou, we pride ourselves on being holistic, viewing the interior and the exterior of a project seamlessly. We sit down with the client, architect, and contractor to figure out all aspects of the project, and how that will impact the interior that we curate.
With The Independent, I was involved with everything from interior design to procurement, so I collaborated with a lot of different specialists — from lighting specialists and furniture artisans to artists and art installers — even professional plant installers. In fact, one of my favorite rooms in that building is the dog lounge, where we commissioned tabletop terrariums to fill up some very shallow shelves on the wall.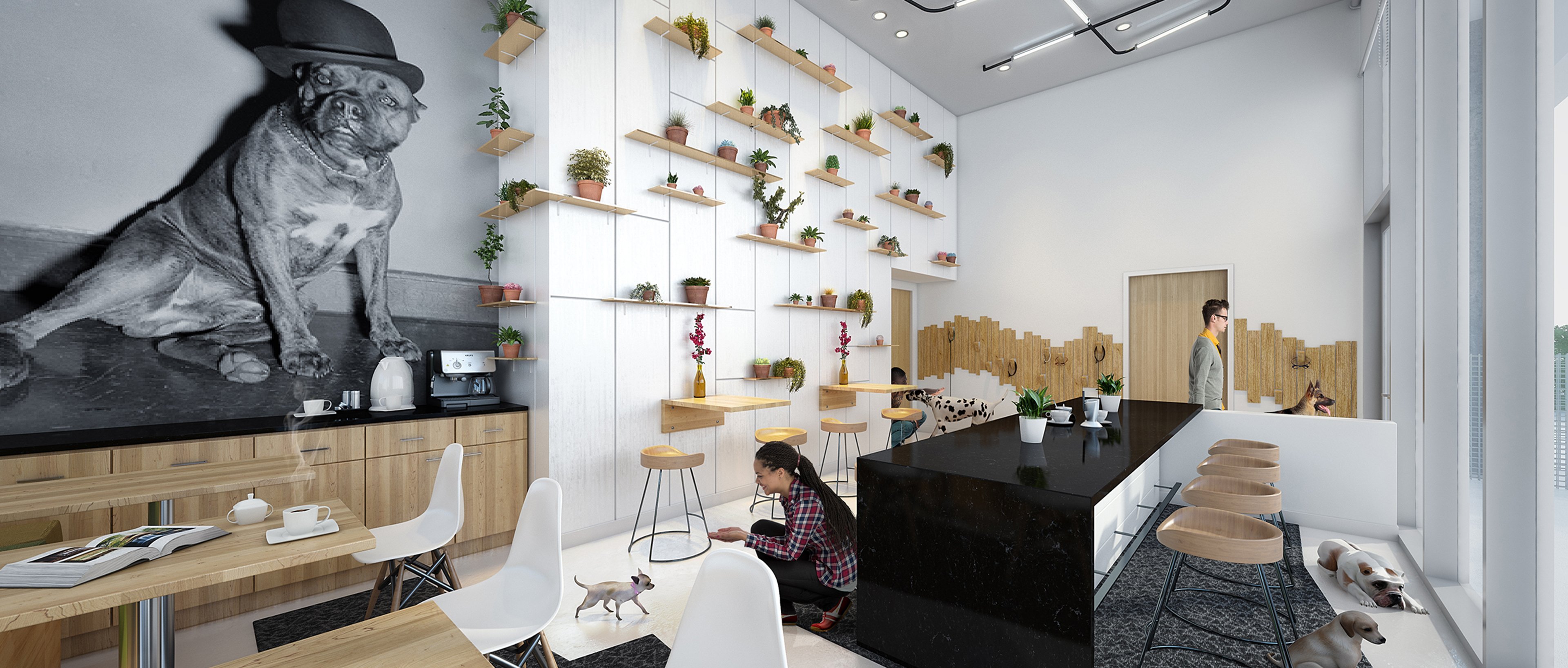 6. You mentioned working with lighting specialists — how does light inform your work?
It all starts with light, doesn't it? How anything appears is based on its relationship to light. On the interior side, each project is its own entity. Making a space look a certain way comes from light and its relationship to materiality. I approach lighting like I would a sculpture — I integrate it into the design process and try and sculpt it with the form and materials I add.
One of the things that's really important is how the temperature of the light affects the way that people feel in the space. All lighting is mood lighting. However, it's sometimes hard to break down lighting technicalities for a developer or client. When I was at Rhode Partners, I actually installed Ketra lighting above our project table so that I could see and show how various temperatures of light affected finishes. I would do that all the time for clients so that lighting wasn't just some number on a sheet, but something they could actually experience and feel. At Studio Llou, part of our mission statement is to "make sure the people inside the building matter as well"⁠ — using Ketra in offices for its ability to transform throughout the day and mimic sunlight can help us achieve this.
7. The design scene tends to be heavily associated with New York and San Francisco — how does Austin fit into the mix?
I definitely see things changing. In places like New York, there are a lot of sleek, sophisticated interiors that feel very high end. Same thing with LA/San Francisco, whereas when Austin was younger, it had a much more "attainable" vibe. What I'm seeing now is that Austin is elevating its design. Refining yet remaining comfortable in its own character while adopting some of that sleeker NY/LA detailing. It's more mature now but still holds onto that warm, lived-in feeling. At the same time, I see places like New York coming back down and moving away from imposing marble and coldness. The styles are growing closer to each other.
8. Are there any other exciting trends that you see happening?
One of the really fascinating things to me is the effect that widespread access to design information is having. People can follow what's cool at any location at any given moment, so there's a lot of great local experimentation being driven by access to global trends. Great ideas come from everywhere — people are sourcing from smaller manufacturers and discovering different inspirations besides just building on last year's trends. That being said, I also love going out and experiencing the whole Austin design vibe, too.
It's exciting that people are willing to take risks and focus on that individual feel. I'm surprised on a daily basis how other people's thought processes revolve around design.
Interested in learning more about Erin's thought process around design, and her firm's capabilities? See Erin's Studio Llou online. And if you enjoyed this post, check out our previous interviews with Shannon Bush of ServiceTech and lighting designer Erin Dreyfous of Tillotson Design Associates.