Did you use any of Ketra's natural light capabilities?
We did. Dustin's studio and gallery already has natural light flooding in through ceiling skylights, so we wanted to expand upon that. These works have been displayed outside under sunlight before and they look amazing, they just sparkle. We were able to capture that feeling inside for the first time ever. The flexibility that Ketra gives you across the dimming range, the X-Y coordinates of color, and the spectrum of color with Vibrancy—there were just so many possibilities it enables. For this project, we replicated the sun at various degrees and times of day, and the results were simply beautiful.

Do you find there's a difference between lighting 3D pieces like these sculptures vs. more traditional 2D art?
We had previously illuminated artist Theo Pinto's 2D oil on canvas works in his Skyscapes series, inspired by when the day meets night and sky meets earth, with Ketra. With that project, the artist knew that these gradient pieces totally transformed when viewed under sunset lighting—so we replicated that golden hour with the system. Now they can be optimally lit any time of day, and Theo, like Dustin, insists that his work be installed with Ketra.
One of Theo Pinto's paintings transformed under Ketra light
For the 3D sculptures, you quite literally get another dimension. You have to think more about how to effectively light the whole piece. For instance, with the Psychogeographies, we saw that having a light between pieces allowed us to backlight the head of each figure. This created a "halo" effect, helped separate the works, and ended up showing more detail than if we only lit them all separately.
On some of Dustin's larger pieces like The Politics of Eternity, we utilized backlighting with a row of G2 linears bounced off the back wall to complement the track heads. The backlights are what creates the spectacular look of ambience - a sun setting or environmental changes. Having 2 separate layers of light enabled more dynamism—we could keep the S30's fixed at 4700K and then vary the temperature or color of the back or vice versa.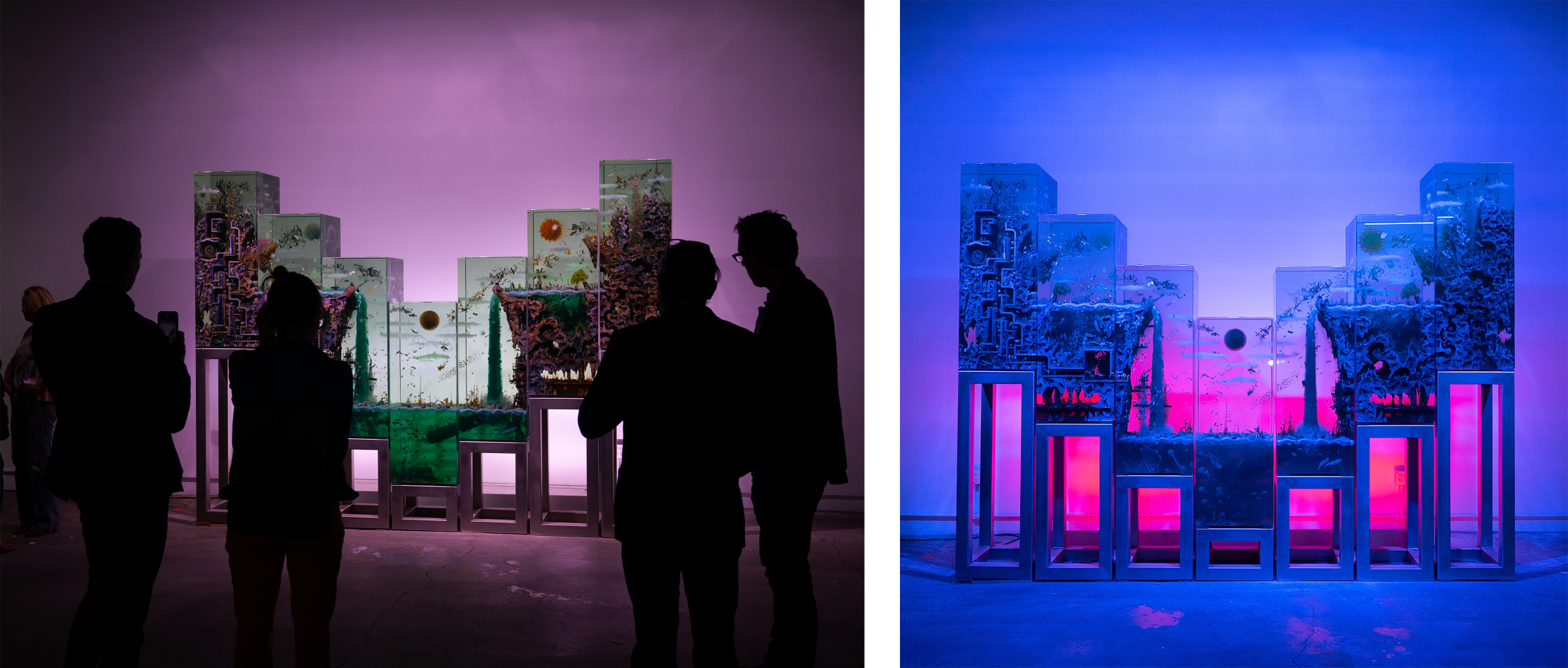 G2 linears add a dynamic layer of light, giving the dramatic appearance of a sun setting at the touch of a button