The Kips Bay Decorator Show House has long been a touchstone for the global design community. Founded in New York City in 1973, the basic idea is this: gather a couple dozen of the world's most exciting visionary designers to overhaul a luxury home with fine furnishings, art, and technology—and point the way forward for interior design. Proceeds go to support the Kips Bay Boys & Girls Club, raising millions for underserved children each year.
This year, the annual Kips Bay Show House made its debut on Texas soil with the inaugural Dallas Show House—and Ketra was honored to make an appearance. Although this isn't our first rodeo (we were honored to participate in last year's 2019 NYC Kips Bay Show House), we were proud to see our lighting solutions help two of the 27 participating designers bring their breathtaking visions to life. Once again, the event raised money for the Kips Bay Boys & Girls Club, along with two additional local nonprofits that benefit Dallas's children: Dwell with Dignity and Crystal Charity Ball.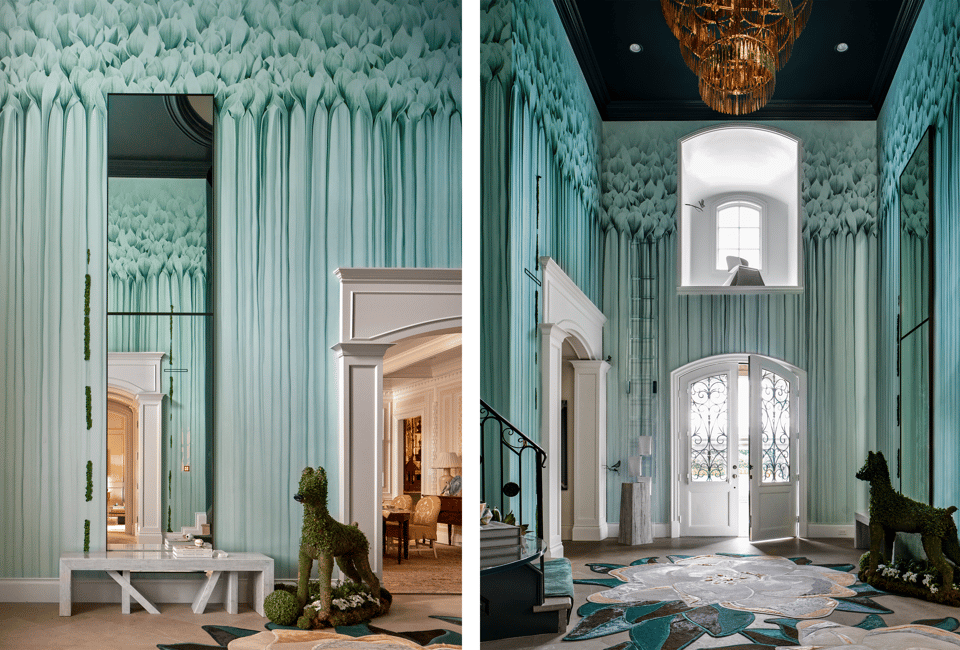 Guests are welcomed into this garden-inspired foyer designed by Rottet Studio
The splendor of nature emerged as an unofficial theme, with many spaces taking inspiration from the Earth's gorgeous florals, exotic locales, and decadent hues. The elite list of designers transformed an ivy-covered, French chateau-inspired luxury home into a stunning display of style, taste, and sophistication.
From the moment you step in the door, the level of design vision is clear: Houston-based Lauren Rottet of Rottet Studio transformed the home's entryway into a rich and alluring botanical burst. Her magnolia-inspired vision paid homage to the local landscape: "Dallas' beautiful gardens have always been a respite from daily life and there is no time better to celebrate the virtues of nature," she told Veranda Magazine, calling the foyer the "heart of the home."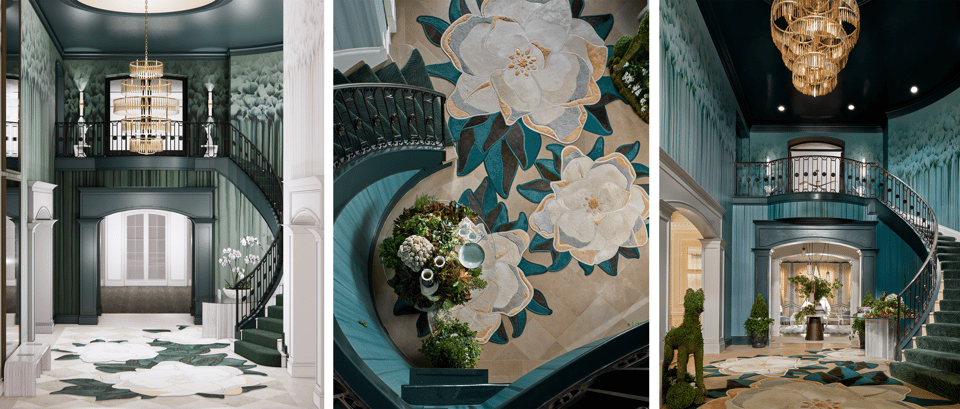 Rottet Studio's initial design concept (left) and final design (right), both include gorgeous custom magnolia rugs by Kyle Bunting (center)
Take a turn up the winding staircase and you'll find yourself immersed in Cravotta Interiors' moody, Texas-style loft. The Austin-based design firm created a space composed of organic colors and textures, interweaving principal Mark Cravotta's lifelong love of music, art, and design. "My space is where those passions come together," Mark told Veranda. "Whether alone or with friends, you're enveloped in deep, rich colors and a tapestry of texture, sound, and light."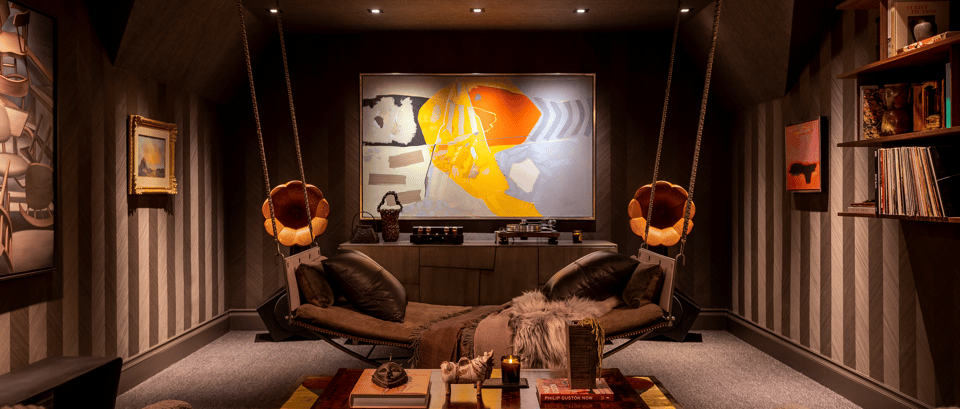 Cravotta Interiors' "HiFi Lounge" features cozy, earthy tones, and a whimsical suspended day bed
Both designers used Ketra light to strike the perfect mood in two very distinct environments. In the foyer, Ketra's Natural Light dissolves the barriers between indoors and outdoors, adding to the organic design and making guests feel like they're walking through a garden. In the HiFi Lounge, the light creates a warm, alluring vibe that invites you to put on your favorite record, sip a cocktail, and stay awhile.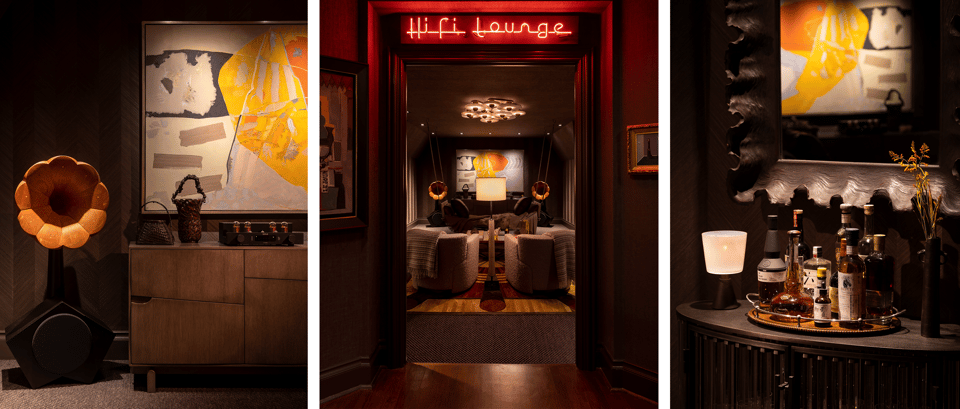 Details from the "Hifi Lounge" including a handmade stereo from A for Ara, a cheeky neon sign, & a sophisticated bar area
We're so grateful and inspired to see these wonderful creators using our lighting solutions to bring new visual expressions into being. If you're feeling inspired too, you can follow us on Instagram for more design inspiration and industry news. Or hop over to our projects page to explore how Ketra has enhanced other stunning designs.
Photography by Ryann Ford and Nathan Schroder