We partnered with the Careers Through Culinary Arts Program (C-CAP) to illuminate their benefit back in February 2020. We gave all the chefs control of their individual Ketra-lit stations, and we noticed that chefs who were serving fish often chose cooler white color temperatures. I know CATCH serves a lot of seafood, were there any considerations like that in the design?
Definitely. The decorative pendants in the dining area of CATCH have very warm, copper-toned reflectors in them. And even though the sources in those lamps were around 2700k, the effect was much, much warmer than that. When you're planning a project like this six months or a year ahead of time, you don't necessarily know what those final finishes are going to be. But that one unforeseeable design element shifted the perception of the entire space. It's pretty well documented that as people adjust to the space, the warmest white is what becomes white to them—and their perspective changes accordingly.
So people come into CATCH, and even though it's a super warm space (around 2200k or 2300k) if they see something that's 2700k or 3000k, it suddenly seems very cold by contrast. As a lighting designer, you always need to be prepared to pivot. That was one of the reasons we pushed for color-tunable fixtures—so that it could be balanced on site. Showing someone a spec sheet that says a source is a warm white when it doesn't feel like a warm white in the space doesn't add any value. By choosing a tunable solution like Ketra, we can finetune the color on site, and that's really valuable.
CATCH is inside the Aria Resort and Casino in Vegas—Were there any challenges to designing in that casino environment, where you're going between vastly different environments—from brightly lit spaces and corridors to dark clubs?
We actually accounted for that with the long entryway serving as a "tunnel of transition" from the brighter white light of the lobby space to the warmer restaurant space. It became a part of the overall experience, giving a little bit of breath between the public lobby and the CATCH bar.
Very Alice in Wonderland, almost. You're going through this tunnel into a place ensconced in a different light level than what you're used to.
Right, and it also provides a visual reset. That's the whole purpose for the blackout at the beginning of a play—to let everyone exhale, take a moment, and let their eyes reset to darkness. This way, when the lights come up on stage, they're perceived as bright and vibrant regardless of the house lighting in the theatre five minutes prior. The transition corridor has that function at CATCH, where it lets you reset your visual expectations for an entirely different type of space.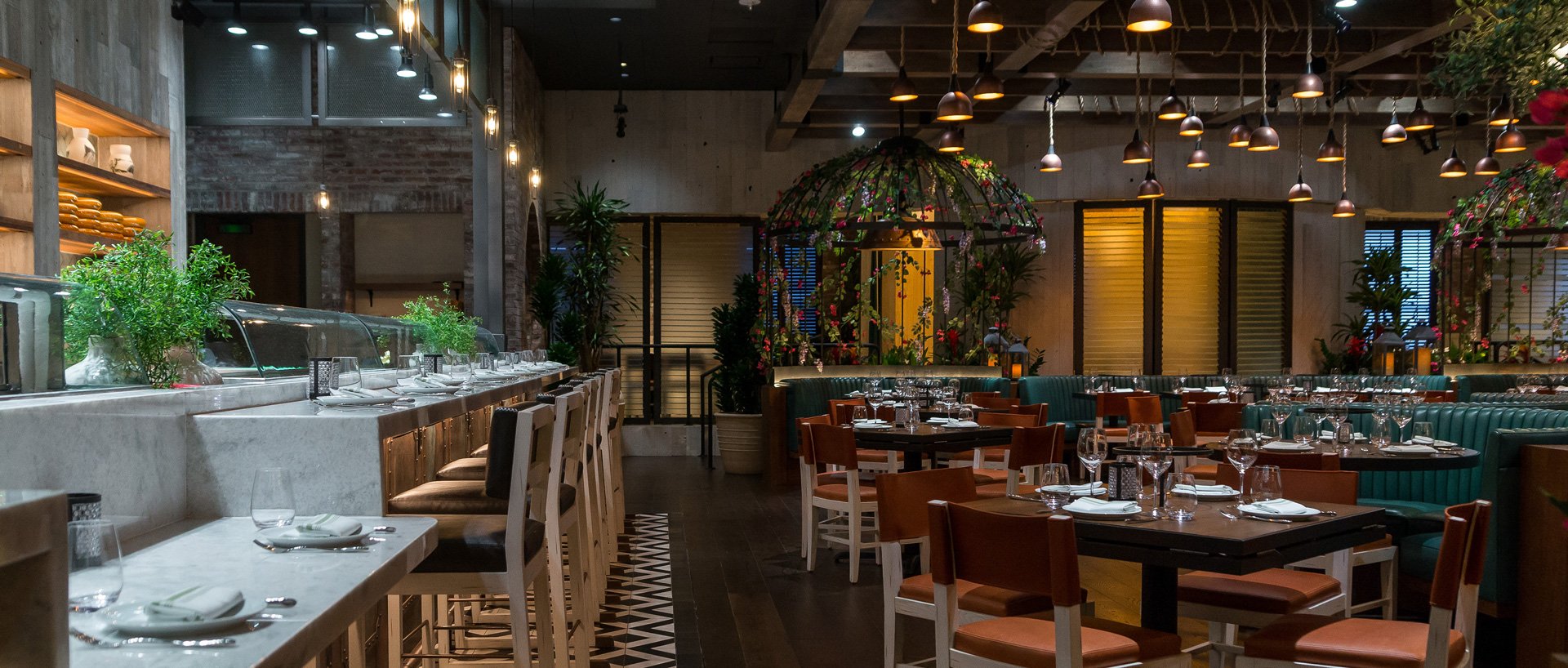 Once diners have made it through the tunnel, what are you hoping they'll find? How do you want people to feel in the space?
Of course I hope they have a moment where they think it's a beautiful space, but in the end, their memory of the night will be much more than the architecture of the space itself. It's forever tied to what they thought of the food, who they were with, and what they were celebrating. Our goal is to make the overall experience truly something special. This is Vegas, pulling you out of the mundane is part of what you're paying for.
That's really what Vegas is for, right? You break out from your nine to five box into this make-believe world of light and color and vice.
Absolutely, Vegas has all of that multiplied exponentially. Designing in Vegas is always both a challenge and a thrill because you're creating spaces for people who aren't just escaping the mundane, they're expecting the spectacular—or at least they're hoping for it.
When it comes to creating extraordinary, memorable experiences like those at CATCH, the work of lighting designers play a greater role than many of us may realize. Ultimately, the lesson we gleaned from Foster was brilliantly clear: our perception of light is based on our relative lighting experiences, not the absolute value of a hue. How we perceive light and color change in context, and the role that designers play in creating that context—in shaping our perceptions and subsequently our experiences—can be something many of us overlook. That is, until we're given a chance to look more closely.
To learn more about the creation of CATCH Las Vegas from the lighting designers themselves, head over to Lightswitch for a closer look.