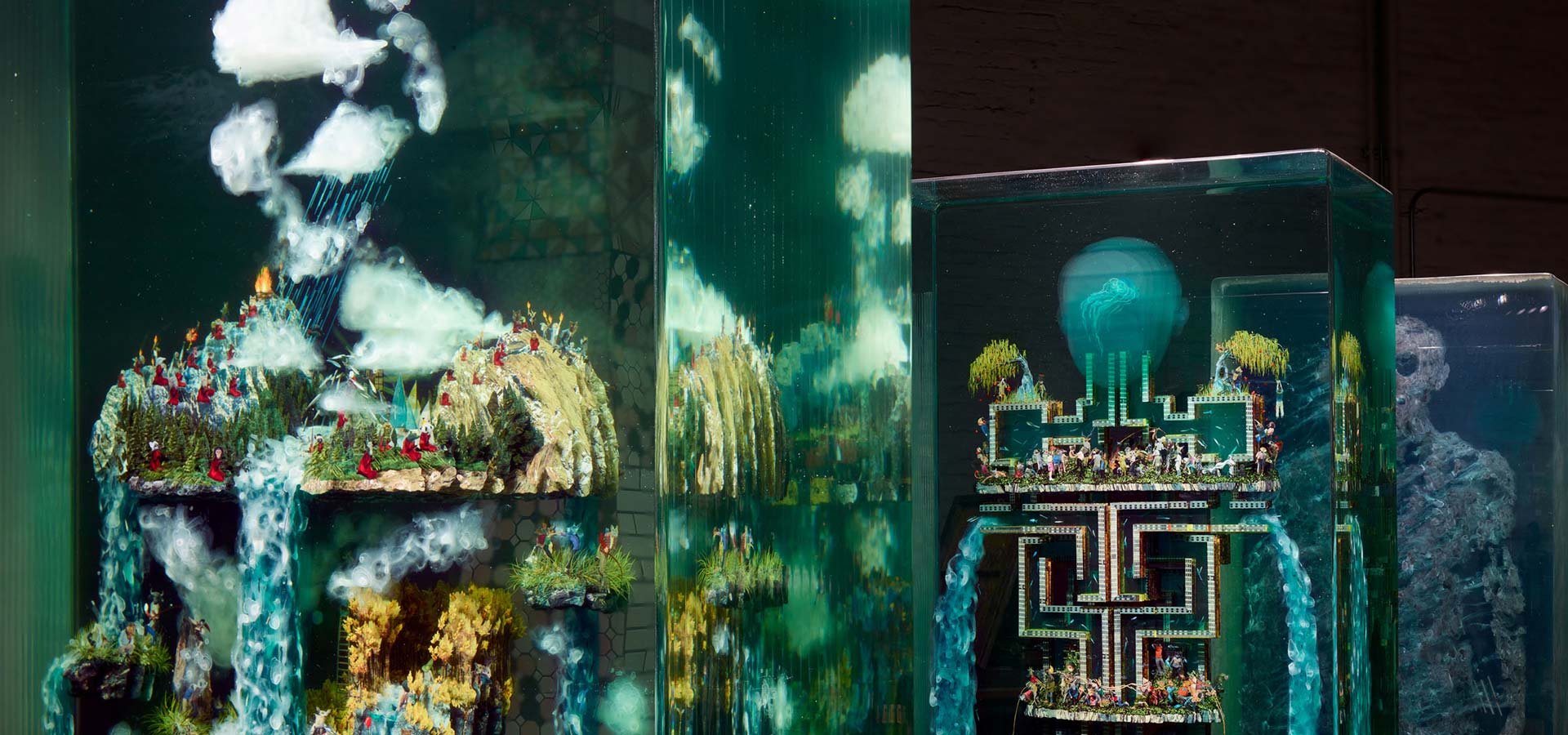 CER: Has your thought process changed over time as you continue to make iterations of the Psychogeographies?
DY: Oh man, the Psychogeographies were just a session that went off the rails. [laughs] You know, I started making things out of human forms and got obsessed with them. I went and saw the Terracotta Army in Xi'an, China, and I guess figurative art and art history permeated my consciousness more than I wanted to admit, because it's not really my go-to and they became a series.
I also think the symmetry of the human form is interesting to me, [pointing to his face] that you have an eyeball here and an eyeball there and they're virtually the same. And there's an ear here and an ear there and they're virtually the same. Maybe I'm just using the human form as a signpost or a symbol or a lighthouse, or something else that's a modality of storytelling. But just like a group of brains is a sort of hardware, I think of the Psychogeographies as a collective hardware.
CER: What's your process from conception to realization of one of those pieces?
DY: Oh geez, I mean everything is built on the turtle of the last turtle's back on the stack of the stack. It's always cumulative, I do believe that things accumulate. Entropy is like a glass lens that keeps getting thicker and thicker.
CER: Out of curiosity, what's your favorite go-to source material for pieces of your Psychogeographies?
DY: Oh, I go to old National Geographics and to history books and encyclopedia books. Sometimes I'm looking for architecture, or rockets, or specific animals, so I'm kind of all over. My source material is like 100 years of different forms of media.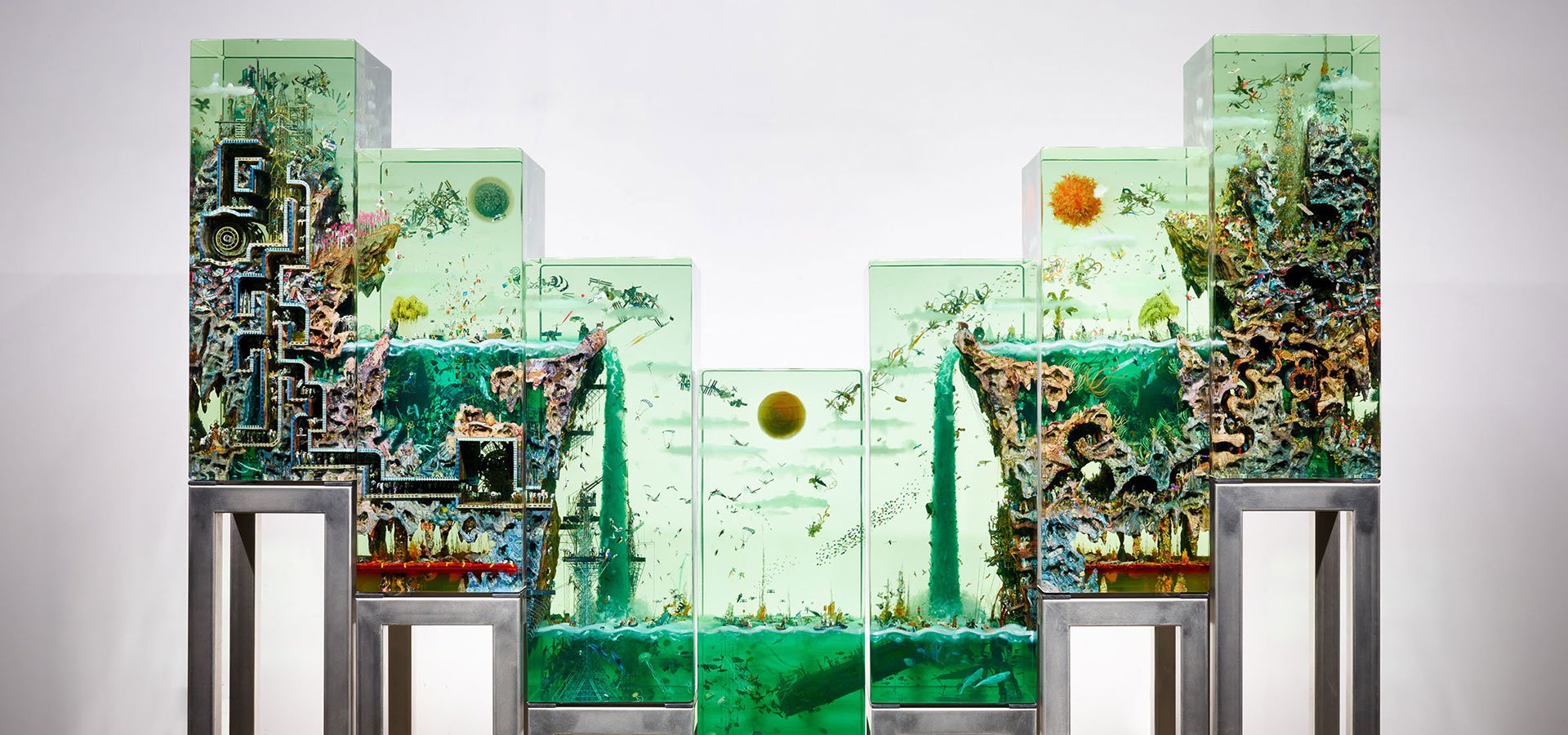 CER: So, you just keep flea market buying all these pieces to chop up?
DY: Anywhere and everywhere, yeah.
CER: In terms of the lighting of your work, what are some of the challenges that you've experienced? What's the optimal way to illuminate one of your pieces? If there's even a singular way to do that—maybe it's plural.
DY: Well, the sun is pretty beautiful for lots of things. I like natural light a lot—I'm drawn to it, in fact. And I like LEDs if I'm not using natural light because I like the idea of their efficiency, and the ability we now have to control their colors.
Light is so important. I'm really a freak for light. If you don't have light on these pieces, you can't even look at them. Without light, they might as well be destroyed. Sometimes people will get these pieces and put them in places without lights, and I then see them and want to cry.
CER: How do you tackle that, when someone acquires a piece and doesn't have a proper lighting system?
DY: You know, I've had to just release and say, "there are some things I cannot change," and all that—you just can't do it all. Now what I do is call up this cool company Lutron and I'm like, "You guys light these m*****f***ers up because I don't want to live in the dark."
CER: [laughs] Yes! So, on that evening when we spent some time playing with the light on your pieces, what was the most memorable or remarkable thing that you took away from the experience?
DY: Mostly just that I'm impressed by what Ketra could do, but it also motivated and inspired me that LED technology is getting better and better. It makes me think of other cleaner technologies, like harvesting energy from the sun or making energy from water or wind. So, when I see this shift in light technology from incandescent bulbs and from Edison bulbs, over to these new technologies like Ketra, I think about how that can affect the net outcome for the human species. I get super jazzed about this stuff.